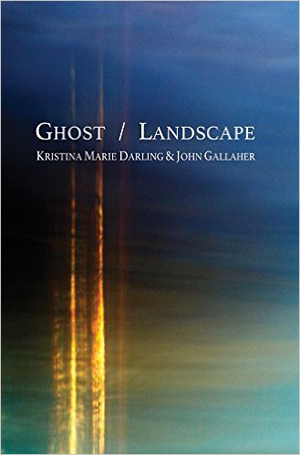 POETRY
GHOST/ LANDSCAPE
BY KRISTINA MARIE DARLING AND JOHN GALLAHER
BlazeVOX Books (Feb. 14, 2016)
102 pages
ISBN 978-1609642402
June 24, 2016
Two people talking about the weather has never been so insightful or enlightening. Kristina Marie Darling and John Gallaher's astounding Ghost / Landscape's show that talking about the weather doesn't have to be awkward filler. The book moves like poetry while still functioning as prose, and integrates a narrative, suspense, and an unrequited love story into one wonderful whole.
Leaping around in time, the book is divided into chapters, beginning in the midst of things and ending at the beginning with chapter one. Even more intriguing are the chapters named after an emotion or event. Among these are "The Chapter On Regret," "The Chapter On Museums," and "The Chapter On Houseguests." Surprisingly specific, these chapters name their subjects; call them out even, as it becomes clear that the book is obsessed with the weight of names and titles. The speaker asks, "What is a conversation but an attempt to make sense of objects, to dig them out from beneath their seemingly endless names?" and continues on, "How could you call that darkened room nostalgia, as though naming something isn't a kind of violence?"
In a blunt tone, the speaker builds the world, word-by-word, bringing it into being. Both by naming objects and then dispelling their title, Ghost / Landscape depicts an image, a setting, a landscape and then destroys it all together, creating something new out of its dust. In this narrative world, shattered glass and phantom music are the background of many scenes, a murder does or doesn't happen, a ghost can quickly become, or perhaps always was, a birthday cake, and a parking lot is renamed "something springy, because we don't really like parking lots all that much."
Darling and Gallaher prove that something can become anything. Words are used as a grounding device in reality and then given a rebirth as something else entirely. The poets' voices blend together magically, where topics are seamlessly shuffled around mid-phrase and the two voices disappear under one consistent tone. Teaching readers how to read the book, the speaker explains, "I've always had a fondness for the absurd. Like playing two radio stations at once." This duality between themes and authors creates an interesting tension throughout, where every thought, feeling, and chapter feels both supported by its surroundings and disputed by what precedes or follows. 
Leave a Reply