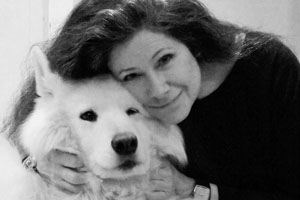 Susan Lewis lives in New York City and edits Posit (www.positjournal.com).
She is the author of How to be Another (Červená Barva Press, 2014), State of the Union (Spuyten Duyvil Press, 2014), The Following Message (White Knuckle Press, 2013), At Times Your Lines (Argotist Ebooks, 2012), Some Assembly Required (Dancing Girl Press, 2011), Commodity Fetishism, winner of the 2009 Červená Barva Press Chapbook Award, and Animal Husbandry (Finishing Line Press, 2008).
Her work has been nominated for the Pushcart Prize and published in such journals as The Awl, Berkeley Poetry Review, BlazeVOX, Boog City, Boston Review, The Brooklyn Rail, Cimarron Review, Dusie, EOAGH, Fact-Simile, Fourteen Hills, Gargoyle, The Journal, Lungfull!, The New Orleans Review, On Barcelona, Otoliths, Phoebe, Ping Pong, Pool, Propeller, Raritan, Seneca Review, So To Speak, SpringGun, Truck, Verse, Verse Daily, and Word For/Word.
Susan received her B.A. and her J.D. from U.C. Berkeley, and her M.F.A. from Sarah Lawrence College. She has worked as an editor at several publications and taught creative writing at SUNY, Purchase. Her flash fiction has been performed in Denver's Stories on Stage series, her collaborations with composer Jonathan Golove have been performed at the Kennedy Center and Carnegie's Weill Hall, and her collaborations with artist Melissa Stern have been exhibited in galleries and museums across the U.S.
15 Questions:
Tell me about your book.
What influenced this book?
My last book was a collection of prose poems, which required me to focus on compression and condensation as both means and ends. After that, I wanted to stretch out a bit — to open my poems across the page, to shape and incorporate the white space, to explore the elasticity of the line. The collection's unifying preoccupation is with mortality: our lives conceived as visits — to the earth, to consciousness. The lineation hopefully evokes the isolation, and brevity, of 'this visit:' the sparse and fleeting presence of the truncated lines, their irregular and episodic trajectory down the page. At the same time, almost all of my work seems to address relation — its necessity and impossibility. Hence the couplets. 
Where does this book fit into your career as a writer?
Although I have published quite a number of chapbooks, including two verse collections, this is my second full-length poetry collection, and my first collection of lineated poems. Although every book comes out of the exciting but frightening impulse to stretch, this one was constructed on a substantial enough foundation of writing and publication experience — and hence, confidence — to be great fun to write, even if the content is not exactly light-hearted.  
If you had to convince a friend or colleague to read this book, what might you tell them?
That as a physical object, anyway, it's beautiful! —thanks to the cover art by Michael Janis, and the gorgeous design by Geoffrey Gatza. Also, the poems in this collection do not need to be tackled en masse — they can be sampled, visited (ha!) and revisited. And the words are sparse on the page, which can be easier on the eye and mind. Also, these poems are leavened by humor and playfulness. 
Tell me about the last literary reading you attended.
The last reading I attended was my own! And I was nervous about it, because it landed smack in the middle of 24 hours of wintry, unrelenting rain, and I thought no one would want to come out on a night like that to hear poetry. In fact, people ended up sitting on the floor and crowding the doorway! It's encouraging and inspiring to be reminded that poetry is alive and well, and of continuing relevance to our contemporary lives. 
The readings I attended before my own were all at the iconic and incomparable KGB Bar: Patricia Spears Jones and Shanna Compton; Lewis Warsh; Matthea Harvey and Brett Fletcher Lauer.
When did you realize you were a writer?
I had been writing poetry, short stories, and plays since I was a young child, and I was the very definition of a bookworm. But I didn't 'become' a writer until I had 'become' a lawyer, which I pursued as a tool to promote social justice, but with which I discovered I lacked much intellectual and emotional affinity.   
Tell us about your process: Pen and Paper, computer, notebooks ... how do you write?
Any way I can! I've written quite a bit by hand, in a small notebook, while walking, riding the subway, etc.  Often I 'hear' lines in my head, which I jot down any which way, to explore and expand on at my desk. Other poems get born right onto my laptop. Recently, Siri has helped me start a few new pieces, while walking in the woods! But no matter how or where they start, all of my poems get worked over, countless times, on my laptop.
How do you handle a bad review of your work?
So far I haven't had to face one — but I hope that when I do, I'll be open enough to the negative feedback to learn from it, without letting it unduly undermine my creative momentum.  
Which writer would you most like to have a drink with, and why?
Octavio Paz. The breadth of his imagination, and the pleasure he seems to have had in the writing process, are just plain exhilarating.  I would also love to sit across a table from Samuel Beckett, who I think was actually a surprisingly happy man. I'd probably be too star-struck to have a drink with the living authors I most admire… Michael Palmer, for instance, or Bin Ramke, Rosemary Waldrop, or Lydia Davis.
What's the biggest mistake you've made as a writer?
That's a hard one, because I tend to believe that our mistakes can be valuable to our development as writers. Plus, there's the fact that we can only talk about the mistakes we have recognized as such! But I am sometimes sorry I decided not to go for a PhD, despite my natural affinity for scholarship, because I thought it would dilute my commitment to my writing. 
What's the worst advice you hear authors give writers?
I differ with those who might prescribe workshopping as some sort of magic bullet for carrying creative writing across the finish line. I remember Grace Paley once saying that every writer is a beginner at writing every new piece. Since we are talking about original work, no one but the writer can possibly find the way to blaze that particular trail. Which is not to say that workshopping is never useful — especially for diagnosing problems, if more rarely for prescribing solutions. 
What scares you the most?
The same thing that excites me: the blank page.
Where do you buy your books?
Mostly I buy my books online — directly from small press websites, but also from Amazon. 
Who are you reading now?
Bin Ramke, Claudia Rankine, Bernadette Mayer, Lewis Warsh, Jane Lewty, Joanna Fuhrman. Plus all the writers who submit to Posit! 
What is your favorite TV show at the moment? 
My favorite series is Breaking Bad. I think it's downright Shakespearian — and widely misunderstood. I also like The Knick. Steven Soderbergh is such an interesting director, and the subject matter (an early 20thCentury New York City hospital) is fascinating.
Bonus Round: 
What do you want the world to know about you? Make it juicy ....  
In my household, food and drink are honored pleasures! I love handling beautiful ingredients as much as eating them. This includes growing what I can, as well as foraging. Over the years, my husband and I have eaten over eighty species of wild mushrooms — and lived to tell the tale! I also barrel-age my own cocktails, and make my own block ice. 
 Preview and Preorder This Visit by Susan Lewis here